Skyline, el nuevo festival de Florida que lideran The Martinez Brothers, Maceo Plex y Dj Tennis
Aunque esta noticia extrañe en tiempos de pandemia, es real y ya está confirmado: El Lot 54 en The Vanguard (Orlando, Florida) será la casa de un nuevo festival que tendrá su debut en apenas dos meses. De hecho las entradas están ya a la venta y puedes acceder aquí.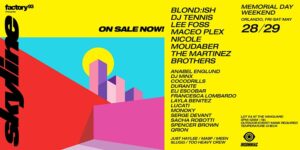 Este nuevo evento internacional tomará el concepto del neon garden, con el que Insomniac, uno de sus principales organizadores, tiene algunas experiencias por haber estado muy presente en los festivales de Electric Daisy Carnival, los cuales promociona. Además, aunque el ambiente que pueda tener influye mucho, todos sabemos que lo más importante siempre es la música. Como no podría ser de otra manera, el estreno se va a hacer por todo lo alto. Dj Tennis, The Martínez Brothers, Maceo Plex, Nicole Moudaber y Blond:ish, son solo algunos de los 24 DJs que están confirmados.
Por otro lado, la duración del mismo será de dos días, contará con dos escenarios y el estilo predominante será el tech-house. Asimismo, se celebra a finales del mes de mayo a causa del Memorial Day Weekend y el hecho de que se elija Florida no es una mera casualidad, pues este estado ha demostrado en varias ocasiones ser el más permisivo de cara a la celebración de este tipo de eventos con el covid-19.